Dr. Micozzi's CoreXanthin brings you two of nature's most powerful ingredients in one tiny dropper. Inside each dropper full of CoreXanthin you'll get one of the most researched nutrients on the planet-5,000 IU of Vitamin D3-the amount Dr. Micozzi recommends everyone take daily in order to:
support a healthy inflammatory response, supercharge your memory and keep your brain firing on all cylinders, protect those fragile bones as you age, naturally support your muscles and nerve health and so much more!
And that's not it - in this easy-to-swallow delicious cherry flavored drop you'll get 4 mg of AstaREAL(r) Astaxanthin. Astaxanthin has been shown to help revitalize your energy, refresh tired eyes and help focus your vision, help maintain healthy cholesterol and triglyceride levels and much more!
Why AstaREAL(r)? AstaREAL(r) astaxanthin is derived from Haematococcus pluvialis. H. pluvialis is the leading source of natural astaxanthin in more than 300 peer reviewed research publications. A brand you can trust.
Vitamin D3 and AstaREAL(r) Astaxanthin are just better together! A powerful formula for total body protection--all in one tiny dropper full of CoreXanthin.
Buy 3 for

$31.62

each and save

10

%
From Escondido to Atlanta—
and everywhere in between—
There is now a clear-cut
"Dividing Line" for optimal
health in America…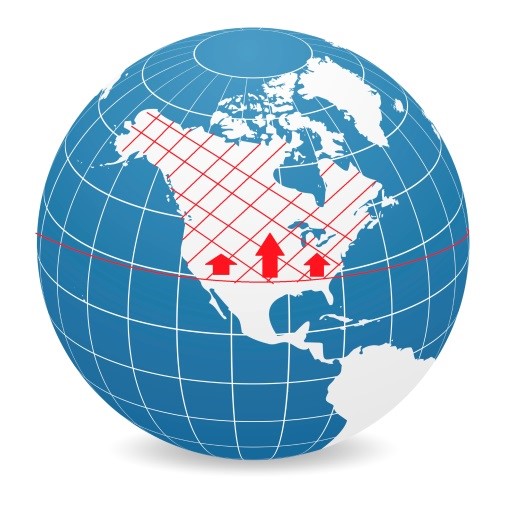 And up to 3 out of 4 Americans
are on the wrong side—
WHERE DO YOU STAND?
Dear Friend,
One doctor now calls it the "33rd Parallel Syndrome" and it's quietly wreaking havoc on America's health.
Its symptoms will stop you in your tracks…
Increased risk of heart health concerns…
A memory that's hopelessly stuck in the mud and…
An immune system that's missing a critical element.
And this epidemic is growing fast (for reasons I'll explain in just a moment).
In fact, between the years 1994 and 2004, this syndrome grew by nearly 20% in Americans—
That's far worse than anyone had imagined.
And that's just the last time it was systematically measured—who knows where we stand now?
It's now to the point where…
If you live north of Atlanta, Denton, Phoenix,
Los Angeles and anywhere in between—
Your ability to achieve and maintain
maximum health is likely in grave jeopardy
And even if you live in America's most southerly states—you're by no means out of harm's way.
America is under attack by a silent syndrome.
Imagine if ¾ of Americans were unemployed…or ¾ of America's cars needed to be recalled?
The outcry would be deafening.
But here we are…¾ of Americans might not be getting enough of a key vitamin essential to human health—
And mainstream medicine is ignoring the rising red flags.
This vitamin fuels your immune system…
Is the building block for heart health and…
Is critical for memory recall, cognitive function, and more.
In fact, scientists have now learned this one nutrient can regulate over 1,000 separate genes within the body.
These genes affect every cell and tissue within the body.
That's right—it's THAT big.
…But why are YOU missing out on its power?
My name is Katherine Wheeler and I'm the President of Dr. Micozzi's Smart Science Nutritionals.
What you're about to discover all comes back to one life-giving force—the sun.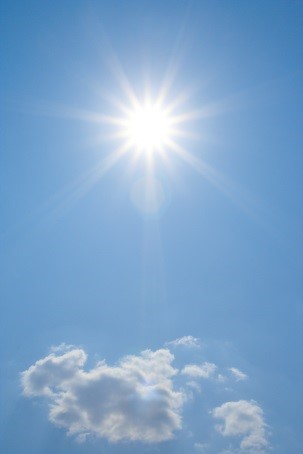 The sun provides your body with a solar secret essential to human health.
But these days we are in serious trouble. The U.S. EPA estimates average Americans now spend 90% of their time indoors!
And if you live anywhere north of the 33rd parallel (that's any city between Los Angeles and Atlanta all the way north to Bismarck)…
Virtually no UVB rays penetrate the atmosphere at all for a huge chunk of your year.
This leaves most of America deficient in this critical secret—
And every aspect of your health may suffer.
But today, with the help of one of America's most scientifically-minded health experts—
I'm going to introduce you to…
Not one—but TWO SOLAR SECRETS
leading Americans
back to optimum health
With these secrets in hand—
It doesn't matter where you live, from Boston to Juneau—your body will be protected and nourished.
And the effect these two solar secrets can
have on your health is perfectly profound…
By affecting nearly every cell in your body they can help you…
Feel like a "perfect-attendance" high-schooler by supporting a strong immune system…
Significantly support the safety and POWER of your heart health for decades…
Protect your crystal clear vision…
Promote smooth, silky-soft skin and…
Aid proper inflammatory response to help keep your joints moving fast and free…
And so much more.
One doctor who realizes what's at stake…and what your health might be missing, is introducing…
A solution so powerful—everything before it is a waste of your time
Dr. Marc S. Micozzi is thrilled to show you something new today.
He's a former National Institutes of Health insider and…
Author of America's most complete guide to alternative and natural medicine, The Fundamentals of Complementary and Integrative Medicine…
It has been the Bible for health professionals for twenty years…
Dr. Micozzi's passion for these two sun secrets has been burning for decades. Today, he wants you to discover a solution that could engage every aspect of your health.
He's personally battling the 33rd Parallel Syndrome with over 20 years' worth of groundbreaking science. It's all in his new solution, CoreXanthin D3.
This head-to-toe health revamp all begins with…
The game-changing "SUN vitamin" —
doctors ignore!
It might sound simple but—
You'd be shocked by how many doctors are underestimating or outright ignoring the role this sensational vitamin plays within your body.
I'm talking about vitamin D.
Nearly ¾ of America could be deficient in this mighty vitamin and yet…
Doctors seem happy to stay mum!
And even the few times mainstream medicine does realize vitamin D's role in vibrant living—
Their solutions are pathetically puny.
Currently, the Institute of Medicine recommends 600 IU of vitamin D a day.
That's like…
Drinking 1 glass of water a day…
Eating half of your breakfaster and then, fasting for the rest of the day…
Or simply sleeping 2 hours a night, every night…
That's not going to cut it—
You need MORE!
Let's get REAL for the sake of your health—starting now.
Your body could synthesize much more of the vitamin D it needs from the sun.
The UVB rays from the sun are the necessary ingredient to natural vitamin D protection.
But if you're spending 90% of your time indoors and…
If you're living in an area that sees little-to-no UVB rays through the winter months…
Your health could be ensnared in the 33rd Parallel syndrome.
CoreXanthin D3…
Uses the most studied form of vitamin D, D3 and…
Provides the perfect amount—5,000 IU's. It's completely safe, but far higher than the laughable amounts the IOM recommends.
Vitamin D can come in two forms—D2 and D3. Recent research shows that D3 is approximately 87% more potent than D2. D3 is also…
More stable on the shelf…
Binds more tightly to the vitamin D receptors in the body and…
Is the form used most in clinical trials.
If you're not using D3, you're not combating the 33rd Parallel Syndrome.
And once your body is charged with this healthy solar power—
EVERYTHING simply works better
Healthy levels of vitamin D help organize and activate your immune system.
B cells, T cells and antibody-carrying cells all have specific vitamin D receptors just waiting to be charged with a healthy dose of D.
Vitamin D within the gut is critical to your body's calcium absorption.
Nearly 54 million Americans are struggling with their bone health. Vitamin D is an essential element to help protect your bones—but you need to have enough.
And that's only the beginning.
While most vitamin D solutions start and stop with this vital nutrient…
Dr. Micozzi is setting the bar MUCH higher with CoreXanthin D3.
In fact, he wants to…
Redefine vitamin D—with help from one of the world's most scientifically-powerful antioxidants
Vitamin D harnesses the power of the sun's ultra-violet blue rays…
The second solar secret within CoreXanthin D3 makes full use of the other end of the sun's color spectrum.
Why are so many scientists suddenly seeing red?
Because the amazing carotenoid, astaxanthin is the subject of over 1,000 peer-reviewed studies!
This carotenoid is the result of the sun's red color spectrum. It reveals itself as a pigment within plants—even giving a distinct reddish hue to the animals that eat those plants.
It's one of the most powerful antioxidants currently known to man.
That makes it a perfect pairing for vitamin D.
Rebuild, Retool and REJUVENATE
a powerful force in every one of your cells
Just look at astaxanthin's ORAC value alone (one standard measurement of the potency of an antioxidant)…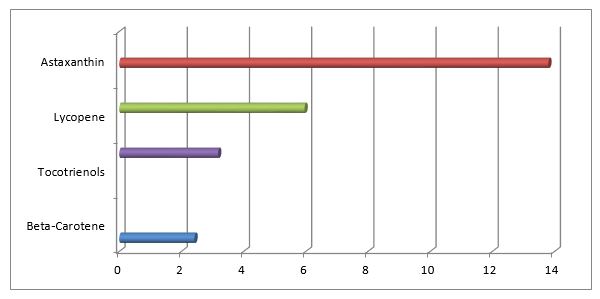 With an ORAC value over twice as much as that of lycopene, astaxanthin is leaping over some of the most "popular" antioxidants in this category.
This "Solar Stand-out" ranks higher than other antioxidants because of its ability to affect both sides of the human cell membrane.
Plain and simple—you receive free- radical protection outside and inside the cell.
And that microscopic distinction can have a colossal effect on your daily health. For example…
Don't exercise without it—
Animal studies have shown Astaxanthin may limit the impact of cardiac and skeletal muscle damage which can accumulate with prolonged exercise. Astaxanthin may even improve the ability of muscle to use fat as a fuel source!
When your immune system is firing on all cylinders YOU'RE PREPARED…
Much like vitamin D, astaxanthin seems tailor-made for the immune system by supporting antibody production and immune system health.
Help secure and protect memories from a life-long brain disruptor…
Oxidative damage caused by inflammation in the brain can disrupt neurons and quickly lead to more and more "senior moments."
However, astaxanthin helps to promote proper inflammatory responses within the brain by dousing free radicals with its antioxidant power.
And perhaps its greatest strength?
Feel surging confidence in your heart's health
Astaxanthin is proving to be a force for heart health in laboratories.
By showing promise in promoting muscle strength…
Helping to maintain normal blood flows…
Protecting blood vessels from oxidative stress and inflammation and… Supporting endothelial function so arteries better respond to stimuli…
This supplement could turn out to be the ultimate heart-supporting antioxidant.
But apparently astaxanthin's power is grabbing the attention of some…
Big Pharma is trying its
best to "re-create" it!
Dr. Micozzi knows all too well…
When drug companies see a potential profit generator like astaxanthin—they'll do anything to lay claim to it.
Right now, drug companies are hard at work trying to re-create this solar secret's power within the laboratory.
Several synthetic versions are already in-the-works.
But it's available to you today. It's 100% natural and it's paired with the dynamic youth-protector, vitamin D3!
Dr. Micozzi's CoreXanthin D3 puts two of the world's most renowned SOLAR SECRETS to work for your health—like never before
CoreXanthin D3is the latest shining example of what Dr. Micozzi is achieving with Smart Science Nutritionals.
His mission is to take scientifically-founded nutritionals and…
Craft breakthrough formulas you just can't find elsewhere.
And talk about unique…CoreXanthin D3 gives your body these two sun secrets…all without a single pill!
That's right—
FIVE drops, once-a-day and you can—
Fortify your health forever with all of the sun power you'll ever need
CoreXanthin D3 is available to you today as a convenient, easy-to-swallow liquid.
Just 5 drops gives you:
5,000 IU of vitamin D3 to help keep the 33rd Parallel Syndrome OUT of your life, and…
4 mg of AstaREAL® astaxanthin—the world's undisputed KING of antioxidants.
It's perfect for those who hate swallowing pills, and with its simple dropper and neutral flavor, you can add CoreXanthin D3 to the drink of your choice.
And within every 30ml bottle of CoreXanthin D3, you will find 30 servings of the one liquid that can help protect…
Your sharp, focused vision…
Your solid strength bones…
Your sunrise-to-sunset energy…
Your dependable, razor-sharp memory…
Your thriving heart health…
And so much more.
These two fat-soluble ingredients are perfect in liquid form and you can rest assured they are digested and absorbed thanks to CoreXanthin D3's unique liquid form.
CoreXanthin D3—GUARANTEED to help bring you vitality you can feel at a price
that won't hurt
Astaxanthin is the hottest sun secret in the natural medical world.
With over 1,000 peer-reviewed studies in the works and Big Pharma desperately trying to take advantage of its power, astaxanthin is wildly popular.
Meanwhile, the importance of vitamin D3 is finally starting to gain traction—and the prices keep going up.
Take a look for yourself.
You can find liquid vitamin D3 solutions…offering one-fifth of the vitamin D3 found in Dr. Micozzi's CoreXanthin D3…!
But try finding this much vitamin D3 with the added antioxidant power of astaxanthin—and you'll come up empty.
Dr. Micozzi wants to put an end to America's battle with the 33rd Parallel Syndrome. He wants to help you achieve whole- body health with the help of these two sensational sun secrets…
And he doesn't think you should have to break the bank to do it.
That's why Dr. Micozzi requested we offer his new breakthrough approach to whole-body health, CoreXanthin D3 for just $24.95.
No pills.
Two essential-to-life nutrients.
And BIG doses you can feel.
All in just 5 small drops…
All for just 83-cents a day.
FEEL the difference in your
Head-to-Toe health—RISK-FREE!
Dr. Micozzi wants you to be confident in your decision today. If you haven't tried vitamin D enhancer…
Or if you haven't come across the power of astaxanthin before now—you're going to feel an energizing difference.
But if at any point you are unsatisfied with your purchase of CoreXanthin D3, we will issue you a prompt refund of your entire purchase price (less shipping).
That's all with no questions asked. Just say the word and your refund will be processed.
If you are one of the ¾'s of Americans that could be suffering from a lack of vitamin D…the difference will be all-too clear.
In fact, even if you soak up sunshine everyday—
The added benefit of more D3 plus astaxanthin can only help your health feel better and better.
So why wait another minute?
CoreXanthin D3 is your best chance to set your body on the path to optimal health.
By providing your cells with two of the world's most vital, life-giving nutrients…together at the same time…in a form that's easy and dependable…
With a price that's easy on the wallet…
You can finally beat the 33rd Parallel Syndrome and experience the other side of healthy living.
Do it for your energy, your eyes, your immune system, your mind and so much more.
Dr. Micozzi is proud to provide you with this advancement in vitamin D therapy. Take advantage while supplies last.
Order your supply of CoreXanthin D3, Dr. Micozzi's scientifically-advanced liquid breakthrough today.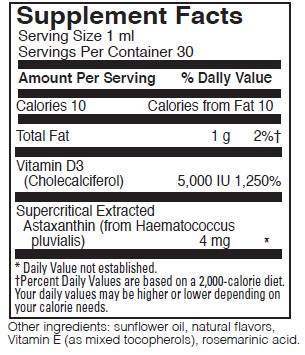 This statement has not been evaluated by the Food and Drug Administration.
This product is not intended to diagnose, treat, cure or prevent any disease.
More Information

| | |
| --- | --- |
| Ingredients | Astaxanthin , Vitamin D3 |
| Health Concern | Brain Health, Energy, Healthy Aging, Heart Health |
• Keep out of reach of children
• Do not take this product if you are pregnant or nursing, on anti-coagulants/anti-platelet medications, have gall stones or gall bladder disease.
• Consumers are cautioned to read all labels and follow all directions. You should always consult with your physician before using this or any such products.
• Individuals taking more than 2,000 IU per day should have their vitamin D levels monitored.
• Product may stain.
• Store in a cool, dry place.